Anaheim, CA – The two-time Top 10 U.S. hit song "Stand By Me" by the late Ben E. King flowed from the loudspeakers as Charlie Morecraft and E. Scott Geller took the stage Tuesday morning to deliver the Motivational Keynote address for the final time at the NSC Congress & Expo.
Attendees happily obliged the pair throughout the two-hour program, recognizing them with several standing ovations as they ended their run at a forum where they have been an annual mainstay since 2006.
Both spent extended periods of time in the ballroom aisles near the attendees.
"Believe me," Morecraft said, "I'd rather be down there with you guys."
Morecraft, the president and CEO of Phoenix Safety Management in Coral Springs, FL, told attendees how he suffered severe injuries and burns over half of his body following a chemical spill and explosion at an oil refinery where he was an employee. He said he did not follow safety precautions, neglecting to wear safety glasses and rolling up the sleeves of his flame-resistant shirt. In addition, he had left his vehicle running, which helped ignite the explosion.
Morecraft recounted his once-lax attitude toward safety meetings and reiterated to the audience that their own safety compliance was a personal choice. Then, with his sleeves rolled up to reveal some of his scars, Morecraft told the crowd, "This was my choice."
"Everyone deserves a future," Morecraft later added. "Please, don't let this happen to you."
Geller, senior partner of Blacksburg, VA-based Safety Performance Solutions and a behavior-based safety expert, stressed the importance of building emotional intelligence to cultivate safety practices.
How people talk to one another influences how people feel, he said.
Geller encouraged attendees to begin a pattern of "safety self-talk," to tell yourself what you're doing. That helps to make safety automatic, not habitual.
Source: https://www.safetyandhealthmagazine.com/articles/14812-morecraft-geller-highlight-human-side-of-injury-prevention-in-final-congress-expo-motivational-keynote-address
Videos by Charlie Morecraft & Dr. Scott Geller
DOUBLE SET W/ DR. SCOTT GELLER & CHARLIE – Safety Combo Video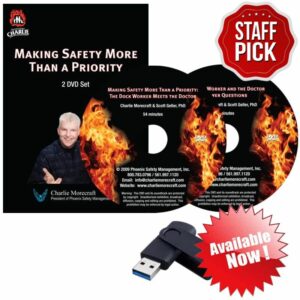 Making Safety More Than a Priority: The Dock Worker Meets the Doctor. This outstanding double-set video was recorded in the fall of 2003, when Charlie and Scott Geller presented at the VPPPA Conference. Charlie and Scott have distinct approaches to inspiring an environment that promotes safety — Scott's is educational; Charlie's is emotional. Together they present a dynamic and compelling message pulling for the personal, behavioral side of generating workplaces that are safe, and safe for the "right" reasons.