Each of Michael's presentations is customized to meet the unique needs of an organization and event.
About Michael: Michael Melnik is an occupational therapist with a master's degree in exercise physiology. For the last 30 years Michael has shared his powerful, high energy and impactful presentations with more than 750,000 participants around the world. He is the creator of numerous award-winning injury prevention videos that are used by thousands of companies as part of their injury prevention efforts and he has played an active role in the injury prevention programs at Wal-Mart, The Home Depot, Wal-Mart, Coca Cola, Wells-Fargo, Exxon-Mobil, PetSmart and many more.
#1 – The Energized Approach for Creating a Safe, Healthy and Productive Workplace
When it comes to safety, organizations are continuously faced with the monumental task of "introducing change" and "getting employees on board". Creating a strong safety culture can be a daunting and time-consuming task. The Energized Approach by Michael Melnik helps companies generate the energy needed for success. In this fun, high energy and information packed session Michael introduces the 10 essential energy sources and demonstrates how this proven approach reduces resistance and maximizes participation. The Energized Approach energizes participants and offers them a strategy that helps them create a work environment that is primed for action.
#2 – From Knowing to Doing; Maximizing the Impact of your Safety Training
This is Michael's most requested leadership presentation.
There is a huge gap between what employees know about safety and what they do with what they know. Information has great value, but only if it is put into action. Its impact is influenced not only by the quantity of content delivered, but also by HOW this content is delivered and then, most importantly, how it received and acted upon! In this session Michael introduces REP; The Rational, Emotional and Physical approach to effective training; a strategy that grew out of presentations to more than 750,000 participants over the last 30 years. This fun, high energy session takes a humorous look at safety training and offers insights and strategies that not only influence what participants know about safety, but also what they do with what they know.
#3 – The Lighter Side of Sitting, Standing, Lifting and Stretching
This is Michael's most requested employee presentation.
For years, organizations have tried desperately to teach employees the "right" way to lift, the "proper" sitting posture and how to stretch to reduce the risk of injury. Despite these exhaustive efforts the number of strains and sprains remains relatively unchanged. Is it possible that there isn't a single "right" way to lift or sit that works for everyone? Is it possible that the way in which we try to influence employee behaviors in the workplace would benefit from a fresh approach? This high energy, fun and interactive session examines the myths and misconceptions surrounding "proper" body mechanics and offers practical and effective strategies to reduce claims and increase productivity and comfort.
#4 – Blink! A Fun, Practical and Effective Approach to Workplace Stretching
For years, organizations have attempted to integrate stretching into the workday. The problem has been employee resistance, time constraints, perceived costs and low compliance.  This session introduces a fun, simple, practical and EFFECTIVE strategy that allows organizations to bring stretching into the workplace in a way that maximizes participation, reduces resistance and gets great results.  Blink is based on a fairly simple concept; Blinking! Employees blink their eyes all day long in order to keep their eyes comfortable. The blinks take virtually no time at all, and the impact is powerful enough to keep the eyes fresh all day. The muscles of the body function the same way.
All they really need is a periodic "Blink" or stretch to keep them fresh and productive.  Not only is the Blink process simple to implement, it is the MOST EFFECTIVE way to reduce the risk at work. Warming up and stretching in the morning or at the beginning of a shift is good, but as the body continues to work fatigue builds and "blinking" throughout the day provides the body with what it needs, when it needs it. Leadership likes "Blink" because it takes very little time and money. Supervisors like "Blink" because they don't need to "babysit" or manage it and the employees like it because they own it and it is personal to them.
Fees: Based on location / date(s). Please use the form below to inquire about on-site events
You might also be interested in Michael's Employee Injury Prevention Training – Video Series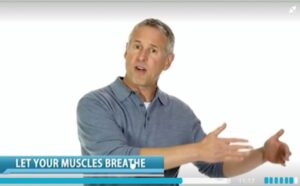 On-Site Presentation Request