Description
Special Price for the entire set of Charlie Morecraft videos.
Videos included:
Remember Charlie – The Official Video (56-minutes)
Our Best Seller! "Remember Charlie" has been viewed by the millions and turns out to be one of the most acclaimed safety motivational video in the world.
Remember Charlie – 30 years later! (New Release – 56 minutes)
Released in early October/2021 – In this personalized one-on-one safety presentation Charlie talks about his journey from death's door following a refinery explosion, and the cost of an accident then and even to this date, 30 years later
Safety, Everyone's Responsibility (48 minutes)
This presentation highly motivates workers and management to work as a team and not as adversaries, ultimately creating a safer work environment.
In this video Charlie tells a few stories of people who did not take safety seriously enough and the repercussions caused by their own actions on the people they loved the most …
A 10 minute Remember Charlie with an amazing impact so insightful you will be left altered for a lifetime. See details in the description area.
We face the threat of war, terrorism, and serious competition from workers outside the USA. Host Charlie Morecraft is back in this program, to deliver an inspiring and patriotic call for American workers to pull together to make their workplaces safer, productive, and profitable.
In this heart-wrenching account Carole, the widow of Joe, a man who tragically fell to his death in an industrial accident shares the devastation of her loss…
CHARLIE ANSWERS THE TOUGH QUESTIONS (23 min.)
Some of the provocative questions Charlie answers in this safety video, which changes behavior from being thoughtless, irresponsible and routine to "safety first & always".
DOUBLE SET W/ DR. SCOTT GELLER & CHARLIE (56 min. + 25 min.)
Making Safety More Than a Priority: The Dock Worker Meets the Doctor. This outstanding double-set video was recorded in the fall of 2003, when Charlie and Scott Geller presented at the VPPPA Conference. 
IT TAKES A VILLAGE TO RAISE AN ALCOHOLIC (36 MIN.)
Describes how alcohol abuse detrimentally effects safety & productivity in the workplace and consequently sets up a dangerous and hazardous work environment.
OFFICE SAFETY – IT'S NOT JUST ABOUT YOU (19 MIN.)
More accidents occur to white-collar workers than to blue-collar workers. This video brings awareness to the office worker and alerts them to the life-threatening events that can and do occur in office environments.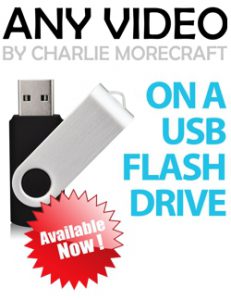 Upon purchasing any of our safety videos you agree with our Compatibility policy, Digital License Agreement, and return policy.