Over 50 videos to choose from. English, Spanish and 50+ languages available on DVD, USB, or Download. Low Prices, High Quality.
OSHA safety training videos and DVD's are a great way to convey important safety-related information to workers in a fashion that will get, and keep, their attention. Safety training DVD's, USB's or downloadables can be an important tool to help employers meet OSHA training requirements.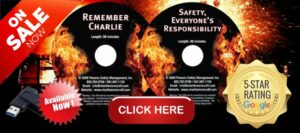 We offer motivational safety videos, safety DVD's, custom safety programs, safety webinars, regulatory training curriculums and orientation programs to help employers reduce their on the job accidents and injuries. Our main keynote safety speakers have produced OSHA compliant videos suitable for all types of industries. We have a safety training videos that will meet your needs, motivate your employees, keep them safe at work and return home safe at the end of the day. We ship our videos quickly and conveniently. You might also check out online digital safety platform accessible 24/7 for all your videos in one place. Training, OSHA compliance, and accident prevention … our products are suitable for all your needs.
These affordable OSHA safety training DVD's are available on many OSHA-required topics. Designed for new and existing employees and supervisors throughout all industries, these short (under 15 minutes) awareness level training topics are the perfect tool for kicking off a safe shift.
OSHA Compliance Safety Series Includes:
About Charlie Morecraft – Motivational Safety Speaker
Charlie Morecraft is a dynamic speaker who touches an audience through his autobiographical story, emphasizes taking responsibility for one's actions and one's safety. Standard training meetings, videos, and seminars demonstrate how to follow safety procedures. Charlie Morecraft tells you why you should. PS.: All "Remember Charlie" languages that are spoken are available with English Subtitles Upon Request